MONARCH FINANCIAL SOLUTIONS WORKS WITH THE FOLLOWING EMPLOYERS TO PROVIDE INFORMATION AND ANSWERS TO YOUR 401K QUESTIONS!
We have many client's that are employees of: PG&E, DIGNITY HEALTH, AT&T, UPS, CAL POLY, CMC, VARIOUS FIRST RESPONDER CITY EMPLOYERS AS WELL!!!
What is a Self-Directed Brokerage Account (SDBA)?
Over the past several years, many employers have enhanced their retirement plans to include a brokerage window opportunity so that plan participants have more choice and greater flexibility with their retirement investments. This option, known as the Self-Directed Brokerage Account (SDBA), exists in 401(k), 403(b), or 457 plans where participants have access to professional management, stocks, bonds, mutual funds and ETFs.
How it Works
Plans that offer the SDBA option provide opportunities for employees to take full control of their current retirement account by linking it to the existing Core account. The Core account refers to the retirement account through the employer that offers limited, pre-selected investment choices. In doing so, participants expand the range of investment choices beyond the Core plan investments and will have access to the same management style as high net worth investors, institutions, and foundations.
While SDBAs are underutilized, this option should be used by investors who feel comfortable managing their own risk or working with a professional investment advisor.
SDBA Access Points
Our Self-Directed Brokerage Account investment options are available through variety of custodians.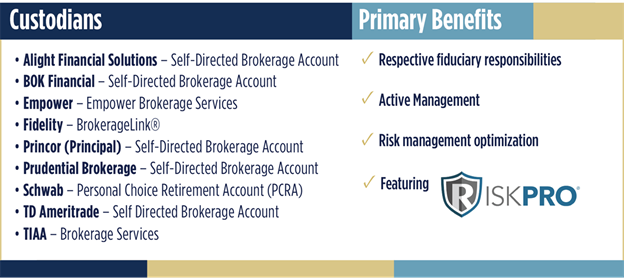 Have YOU Chosen Good Investments?
Do YOU Want Guidance With Your 401k? Book a meeting below for additional information and to schedule a phone call with Lynn Kaloian or Penny Arnold to review YOUR 401k Options
To Best Serve Our Clients, We Are Limiting
The Number of New Clients Each Month
Get Started TODAY To Ensure Availability!
For your convenience we offer appointment scheduling 24 hours a day.